"There is nothing in here that I could wear!"
Sounds familiar? The very fact that you cannot see either a single piece or ensemble to wear after having raided your closet should be a red flag to you. The truth is, inside that big pile of clothes you have in your cabinet, are buried gems that will come out in the open only after you have done the ultimate purge. All you need is 100% brutal honesty with yourself on what to let go and keep. The general guideline is that if you were not able to wear something in a year, it's time for it to go. Let StyleGenie help you with this daunting task of cleaning your closet in order to have your most fashionable self shine! It's time to say goodbye to…
The Clones
Your set of underwear and uniforms is another thing. But if you have in your closet multiple pieces of the same tee, dress, pants, etc., you'd have to see them as warning. Lay those pieces down and ask yourself what made you think that those pieces were so different from each other to begin with. Identify your favorite ones and hang them back in your closet. Clearly, those faves of yours have something that you are really drawn to, so having either one of them isn't such a bad idea.
The Virgins
We all have that piece with the tags still intact, which is just taking up space because we have NEVER actually worn it or may have worn it just once or twice in our lifetime. If you can't remember why you bought that piece to begin with, or why you've worn it just once, give it to someone else, donate it to charity, or sell it. By doing so, you would be able to make someone else happy or earn extra cash for the sale you've done.
The Ex-You
Most of us can go back to those yesteryears only in our #tbt pics when we used to fit in a size 2 or even smaller. Let's face it. Our size some ten years ago or more is totally different from the body we are in right now. You're lucky if the shoe still fits. However, if a piece of clothing cannot be altered anymore to fit your current physique, get rid of it to make room for something that fits just right and helps accentuate your assets.
The Damaged Ones
It's but natural for clothes to have frayed hems, missing buttons, broken zippers, loose waistbands, etc. because of constant use. But if you don't have time to have your damaged clothes repaired, or if the repair price is way more expensive compared to buying a new piece, dump them. This also goes for our clothes whose colors have faded with time.
The Sentimental Lane
Certain clothes take us to a trip down memory lane — that dress we wore on our first date with someone special, the prom dress, the bridesmaid gown, etc. You can honor a memorable piece by putting it in a box together with other memorabilia, having it altered to the current fashion trend, turning it to a quilt or another art form, having it framed (if possible), or taking a picture of it. Just like life, fashion is always moving forward.
The Outdated Fashion Line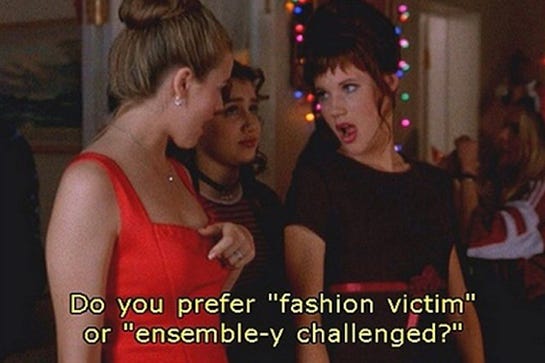 Because fashion constantly evolves, the blazer with stiff shoulder pads you had back in the 80s or the baby doll dress you wore in the 90s might not work so well on this present day. Clinging on to those items until they resurface in style is a misleading thought because the cuts and silhouettes, among other elements, change over time. You can sell those retro fashion statements of yours online to get some honey from your good old days.
You might get a panic attack once you see how much space you now have inside your closet. You might even feel that you now have totally nothing to wear. Fret not! Every item left in your closet is now a legit winner because the rejects are gone. Now, you can clearly see what your remaining clothes have in common, why they work for you, etc. These are the elements that make up your personal style. Let StyleGenie help you in curating your #OOTD and prevent you from making the shopping mistakes that forced you to do the ultimate closet cleanse to begin with. Dressing up will be a breeze from here on. Go ahead and create your Style Profile and use my code AZA8FL for a discount on your first Surprise-Me-Box. Shazuums!